Things to Do in Lake Charles
Things To Do In Lake Charles, Louisiana
Lake Charles, Louisiana is only 30-minute drive from the Texas state line, and like any authentic Louisiana destination, comes complete with alligators, gumbo, and lots of Cajun style. Lake Charles is on the way to New Orleans, but is a city that boasts a personality of its own that is worth checking out. Prepare to be filled up with truly unique Louisiana flavors, entertained by its bustling nightlife, and brought back to serenity via its incredible landscape.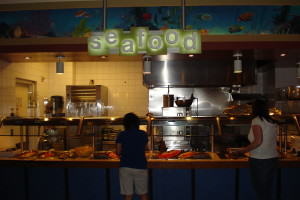 A trip to Louisiana isn't complete until you've feasted upon the Cajun delicacy known as boudin.  Boudin is a combination of cooked rice, pork, onions, green peppers, and seasonings.  The mixture is pulverized in a meat grinder before being stuffed into a sausage casing and then smoked to heavenly perfection. Sonnier's Sausage and Boudin is a small neighborhood joint that boasts an A+ rating on Boudin Link, a website dedicated to providing information on where to get the best boudin in Louisiana and beyond. Basically, you don't know Louisiana until you know boudin and Sonnier's is a great place to start.
Another thing Louisianans seem to love are their frozen drinks.  And you don't have to go all the way to Bourbon Street to experience the anomaly that is the daiquiri. The Frosty Factory in Lake Charles offers over 30 different kinds variety of frozen drinks and their daiquiris are mixed fresh with all natural fruits. On Wednesday nights, the Frosty Factory has a comedy night and then on Fridays, and Saturdays, anticipate shenanigans at the karaoke extravaganzas. The bar also has multiple pool tables and shuffleboards as well as multiple televisions for all of your sports-watching needs.  Lake Charles is also home to L'auberge. Along with normal casino games, it is a resort that has amenities that include a spa, a golf course, a swimming pool, multiple shops, and brings in a wide variety of entertainment for its visitors.
To get a real feel for Louisiana, it is essential to take in the beauty and nature of the state. Cleverly coined the Louisiana's Outback, the Creole Nature Trail loops through marshes, prairies, and all along the white sands of the Gulf of Mexico. Visitors will catch glimpses of alligators and birds up close and in the wild, along with colorful wildflowers. The trail is 180 miles long and can be entered from many different points depending on what you are trying to see. The trail even has its own mobile phone app.
If you like savory food, chilled drinks, and the most serene scenery on the Gulf Coast, plan a trip to Lake Charles, Louisiana. Whether it's a pit stop on the way to NOLA or even just a weekend getaway, Lake Charles will hit you with the southern hospitality and Louisiana character all the same. Check out our selection of Lake Charles corporate housing to enjoy this town in comfort during your stay!