Relocating with Family is Easy with Corporate Housing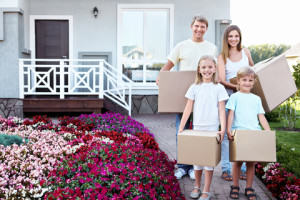 Let's face it relocating is a pain. Living out of a suitcase is tough enough as an individual, but if you are relocating with your entire family, the process is daunting. What ever the reason may be for relocation, such as work or personal, you are in a position to find temporary housing for you and your family and you want to figure out what option is best.  A hotel may seem like an obvious choice, but is it really the best one? Hotels come with limited amenities and lack some of the most basic comforts of home. Using corporate housing is more affordable and comes with space, privacy, and the kind of conveniences that most hotels do not have.
Corporate Housing is More Affordable
Corporate Housing is almost 50% cheaper than staying in a hotel.  On average, hotel rates range anywhere from $100.00 to $150.00 depending on length of stay, location, and the room's size.  If you were to opt for a hotel, you would more than likely be paying double for just one room. Corporate Housing offers actual apartments that come with multiple bedrooms meant to keep families together under one roof.  They also have units available in a wide variety of environments based on your preference. Premiere Corporate Housing can accommodate requests for apartments that are near work, school, retail, medical facilities, in the city, or the suburbs.
Corporate Housing Provides Privacy
Privacy is also a huge advantage in renting a corporate apartment versus a hotel. You will inevitably have other visitors staying on either side of you in a hotel. Staying at a hotel, there is the risk of unwanted disturbances and noise on any given day. Maybe you need a bucket of ice or want to do a load of laundry: in a hotel, you will more than likely have to travel to another floor of the building to do so. Corporate housing owns properties that are entirely customizable based on needs and what is important to you.
The Conveniences of a Permanent Home
The biggest feature (or features) of renting corporate housing units is the convenience. In a hotel, you get what you get. When setting up a corporate housing arrangement, you will find all sorts of interchangeable options.  Upon move-in, residents can expect a full size refrigerator, oven, microwave, and washer and dryer. With multiple furniture packages and options to add on additional electronics, appliances, and other services, you are able to make your environment as comfortable as possible for you and your loved ones. Other additional amenities include a concierge service, fitness center, gate attendant, late night cafes, assigned parking, private garages, and even a coffee bar.  Most units are even pet-friendly!
Housing your family comfortably is a top priority. If you're looking for the best fit for a temporary housing relocation, investing in corporate housing will give you the most for your time and money. Get a free quote on your corporate housing needs today and make relocation easier for everyone involved.